THE OFFICE WILL OPEN FOR WALK-IN PAYMENTS FROM 9:00 – NOON AND 1:00 – 3:00 M-F. YOU CAN CALL OUR TOLL FREE PAYMENT LINE 24/7 AT 844-925-2445, PAY ON-LINE HERE ON OUR WEBSITE, DROP YOUR PAYMENT IN OUR DROP BOX, OR MAIL IN YOUR PAYMENT.
Milford, Massachusetts 01757
______________________________________________________________________________
11-30-2021 – Water Main repair on Deluca Road – Water had to be shut off for this repair. If you are experiencing cloudy or discolored water, please run one cold water faucet only for about 5 minutes to clear your line. If it does not clear right away, shut off your water and wait to try again later. Thank you for your understanding during this water main repair.
_____________________________________________________
As we begin to start going back to our normal lives after the impact of the pandemic, we understand that some of our customers are going to need additional help in getting caught up with their water bills.
During the Pandemic the Department of Public Utilities mandated that all collection activity be halted to allow our customers to concentrate on the immediate situation. Now as our lives start going back to normal activity, we need to start looking at the past due water balances. Shutoffs will resume on or after July 1, 2021.
The Milford Water Company offers a variety of payment options to help you find the best payment option for your budget. Our online bill pay site allows you to set up autopay and paperless billing where you are able to pay with a debit / credit card or right out of your checking account. There are no additional fees for any of these options. You can also schedule payments if you are unable to pay in full on the due date.
Some customers had balances before COVID-19 or were unable to pay during the pandemic and need assistance getting caught up. Please call 508-473-5110. We will work with you individually to set up a payment plan that will allow you to spread your past due amount over manageable monthly installments.
Setting up a Payment Plan will help you:
Avoid the risk of disconnection

Pay your overdue balance over time, with no penalty
The Milford Water Company is resuming collection activities for all water customers. Customers who are behind on their bills will begin to receive notices that their service could be disconnected for nonpayment later. Help is available. All customers are eligible for a COVID-19 payment plan that can help manage larger balances and avoid the risk of future disconnection. Customers needing assistance with paying their bills can call the office M-F, 8:00 am – 5:00 pm. Residential customers are never charged interest or late payment fees. However, there are fees if your service gets turned off for non-payment. Call now to set up a mutually agreeable payment plan for your past due balance.  508-473-5110
Thank you and Stay Safe!
__________________________________________________________________
YOU NOW HAVE THE OPTION TO PAY YOUR ACCOUNT 24/7 WITH YOUR TELEPHONE BY CALLING OUR
TOLL FREE NUMBER 844-925-2445.
ALL YOU NEED IS YOUR WATER ACCOUNT NUMBER AND PAYMENT INFORMATION.
_____________________________________________________________________________
Milford Water Company's Water Conservation Policy Relative to Irrigation Systems.
As part of its Mass Department of Public Utilities Approved Rules and Regulations M.D.P.U. No.19 – sheet 13 and in response to the Mass Department of Environmental Protection's request to develop a more aggressive "Water Conservation Policy" to help meet future demands created a Water Conservation Policy. As part of that approved policy the following reference to lawn irrigation systems is in effect and has been since January 1, 2005.
Sheet 13, Section 17 – WATER CONSERVATION POLICY
(5) Banned all new lawn irrigation systems connected to the Company supply after January 1, 2005. If a customer installed a lawn irrigation system after January 1, 2005 and connected it to the Company's supply, the Company requires the Customer to disconnect the banned irrigation system and the Company also reserves its right to terminate service to this customer until the irrigation system is disconnected.
________________________________________________________________________________________________
THE WATER CONSERVATION LEVEL
Modified Stage II Water Conservation level is still in effect for 2021
What does this mean to you as a customer?
ALL OUTSIDE WATER USAGE INCLUDING IRRIGATION WATER IS LIMITED TO TWO DAYS A WEEK ALLOCATION PROGRAM BETWEEN THE HOURS OF 7PM AND 7AM. This means that all outside water use is based on your house number, odd numbers may use water on SUNDAY AND THURSDAY and even numbers may use water on TUESDAY AND SATURDAY after 7pm and before 7am.
MWC DOES MONITOR FOR VIOLATORS OF THE CONSERVATION STAGES.
The Milford Water Company at this time would like to thank all of its customers for their cooperation in this matter and hope that by CONSERVING now we will not need to increase our water restriction going forward.
.
PLEASE VISIT THE WATER CONSERVATION PAGE FOR MORE INFORMATION.
____________________________________________
DEP Drought Advisory Status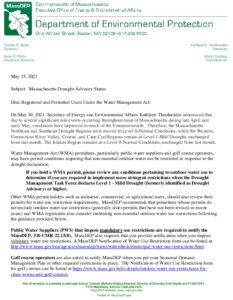 Drought Letter 5-13-2021 (0.3 MiB)
Level of Echo Lake

Echo Lake Levels 1995-2020 PLUS Capacity (0.1 MiB)
Rainfall Totals

Rainfall (60 KiB)
Irrigation Policy

MWC Irrigation Notice (0.5 MiB)
MassDEP – brochure on The Value of Public Drinking Water

Water-values (0.3 MiB)
These pictures were taken at Echo Lake in September 2016.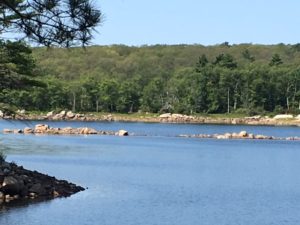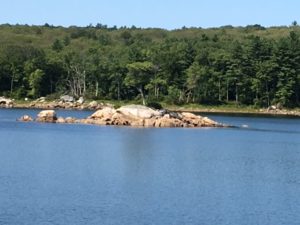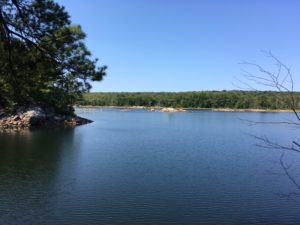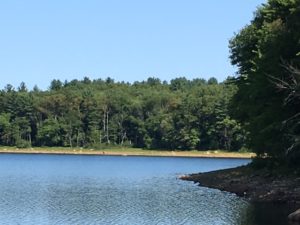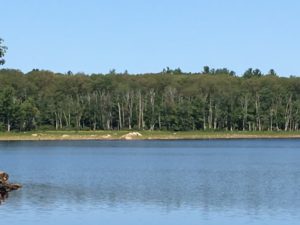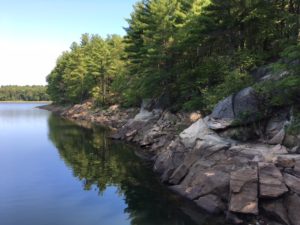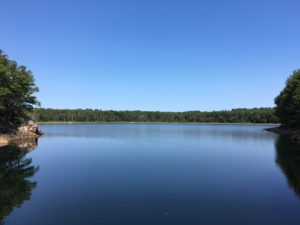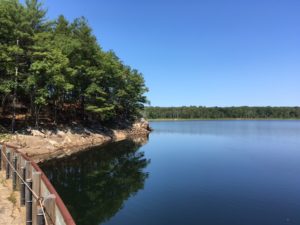 Thank you for visiting our web site that is now mobile friendly.  The goal of the site is to give you accurate and up-to-date information about your water supply in Milford.  This site will allow us to do that in a more efficient manner.
You will find information here on a wide variety of subjects including paying your bill on-line, what to do when you are buying or selling your house, reports on water quality, and history of the company.  We hope you will take the time to explore the site's contents and come back and visit us often.
Your confidence in the water supply is our top priority and we will continue to strive to earn your trust. We welcome your comments and feedback.