Milford, Massachusetts 01757
________________________________________________________________________________________________
OFFICE HOURS
MONDAY – FRIDAY 8:00 A.M. – 4:30 P.M. 
________________________________________________________________________________________________
Milford Water Department's Water Conservation Policy Relative to Irrigation Systems.
As part of the Rules and Regulations M.D.P.U. No.19 – sheet 13 and in response to the Mass Department of Environmental Protection's request to develop a more aggressive "Water Conservation Policy" to help meet future demands created a Water Conservation Policy, the Water Department has approved policy with the following reference to lawn irrigation systems in effect and has been since January 1, 2005.
Sheet 13, Section 17 – WATER CONSERVATION POLICY
(5) Banned all new lawn irrigation systems connected to the Water Department supply after January 1, 2005. If a customer installed a lawn irrigation system after January 1, 2005 and connected it to the Department's supply, the Water Department requires the Customer to disconnect the banned irrigation system and the Department also reserves its right to terminate service to this customer until the irrigation system is disconnected.
________________________________________________________________________________________________
CONGRESS STREET WATER TANK
The Milford Water Department is beginning the construction of the new Booster Pump Station on Congress Street in front of the Congress Street Tank. Work is expected to run through early Fall. Work will be conducted Mondays through Fridays beginning at 7am, working 8-to-10-hour days, weather permitting.
If the weather becomes an issue, there may be the need to work on some Saturdays in order to keep to our very aggressive schedule.
While work is being completed you may expect increased noise and heavy equipment in the area.
________________________________________________________________________________________________
WATER CONSERVATION LEVEL
Effective April 24, 2023
Mandatory Stage II
What does this mean to you as a customer?
OUTSIDE WATER USAGE IS LIMITED TO BETWEEN THE HOURS OF 7PM AND 7AM on an ODD / EVEN basis. Those customers with even house numbers may water on even calendar days and those with odd house numbers may use water on odd calendar days. The Department will allow certain exceptions provided you make arrangements with us first. This restriction will run until further notice and should there be any changes in the status of the restriction, you will be properly notified at that time.
Milford Water Department DOES MONITOR FOR VIOLATORS OF THE CONSERVATION STAGES AND WILL ISSUE A WRITTEN WARNING FOR THE FIRST VIOLATION.
SUBSEQUENT VIOLATION WILL RESULT IN THE TERMINATION OF WATER SERVICE. ONCE THE SERVICE HAS BEEN TERMINATED THE COST OF THE RESTORATION WILL BE THE RESPONSIBILITY OF THE OWNER.
The Milford Water Department at this time would like to Thank all of its customers for their cooperation in this matter and hope that by CONSERVING now we will not need to have a complete water restriction going forward.
PLEASE VISIT THE WATER CONSERVATION PAGE FOR MORE INFORMATION.
____________________________________________
DEP Drought Advisory Status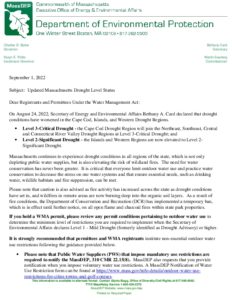 Drought Letter 9-1-2022 (0.3 MiB)
Level of Echo Lake
Echo Lake Levels 1995-2023 PLUS Capacity (0.2 MiB)
Rainfall Totals

Rainfall (93 KiB)
Irrigation Policy

MWC Irrigation Notice (0.5 MiB)
MassDEP – brochure on The Value of Public Drinking Water

Water-values (0.3 MiB)
These pictures were taken at Echo Lake in September 2016.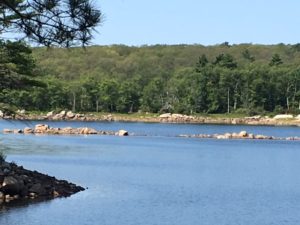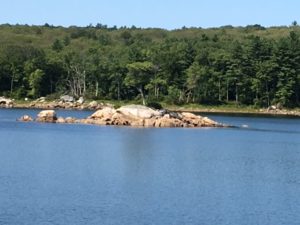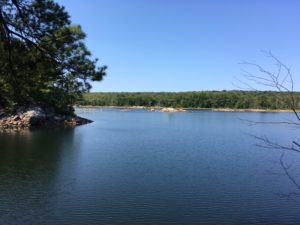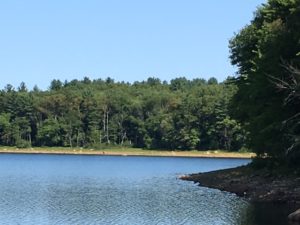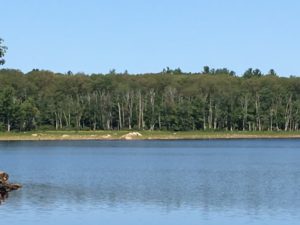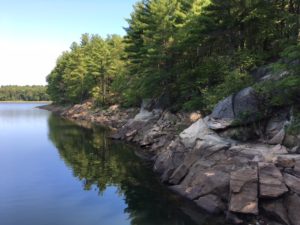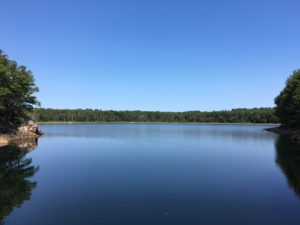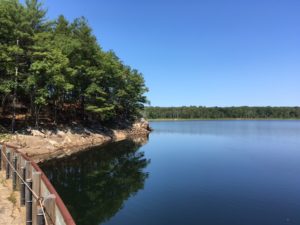 Thank you for visiting our web site that is now mobile friendly.  The goal of the site is to give you accurate and up-to-date information about your water supply in Milford.  This site will allow us to do that in a more efficient manner.
You will find information here on a wide variety of subjects including paying your bill on-line, what to do when you are buying or selling your house, reports on water quality, and history of the company.  We hope you will take the time to explore the site's contents and come back and visit us often.
Your confidence in the water supply is our top priority and we will continue to strive to earn your trust. We welcome your comments and feedback.