Department of Public Utilities (DPU) Opens Inquiry to Enhance Inclusivity, Participation in Energy Proceedings
The Department of Public Utilities (DPU) is pleased to announce that it has opened an investigation focused on increasing public awareness of and participation in DPU proceedings.  Through this investigation, the DPU will explore opportunities to increase stakeholder engagement and ensure that—regardless of English proficiency—all people have been provided with the same opportunity to participate in our proceedings.
Over the course of the last year, the DPU, in collaboration with the Executive Office of Energy and Environmental Affairs (EEA), has been developing an agency specific environmental justice strategy, consistent with EEA's Environmental Justice Policy and the comprehensive climate legislation recently signed into law.  The DPU has opened this investigation as part of these efforts to explore new strategies to boost community outreach and increase participation and engagement in our proceedings.  DPU is seeking broad public engagement, please see the following information to participate in the proceeding.
English
Spanish 
Portuguese
Read More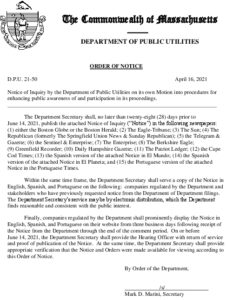 D P U 21-50 Order Of Notice (84 KiB)