THE OFFICE WILL OPEN FOR WALK-IN PAYMENTS FROM 9:00 – NOON AND 1:00 – 3:00 M-F. YOU CAN CALL OUR TOLL FREE PAYMENT LINE 24/7 AT 844-925-2445, PAY ON-LINE HERE ON OUR WEBSITE, DROP YOUR PAYMENT IN OUR DROP BOX, OR MAIL IN YOUR PAYMENT.
Milford, Massachusetts 01757
_________________________________________________________________________________
Hydrant Flushing
The Milford Water Company will be starting its annual hydrant flushing program in the Town of Milford on Sunday, April 4, 2021. Flushing is scheduled at NIGHT between the hours of 8:00 p.m. and 6:00 a.m. and will continue throughout the months of April/May/June/July until the entire system has been completed. Hydrant flushing is conducted to remove any accumulated sediment from the water pipes that may impair water quality. The program also provides the opportunity to inspect hydrants to ensure they will operate properly in the event of a fire.  During the flushing program you may notice a temporary loss in water pressure and water discoloration. Please run the water first before using for laundry. 
This list shows the areas that will be flushed. Not all streets are shown. The streets will be crossed off after they have been flushed.
Updated as of 6:00 a.m. 4/9/2021
Cedar Street (Dilla Street to Hopkinton)
Deer Street
Walden Woods
Fortune Blvd (Cedar Street to East Main Street)
East Main Street Plaza
East Main Street (Fortune Blvd to Holliston)
Zain Circle
Whispering Pine Drive
Wildwood Drive
Dogwood Lane
Beaver Street
Medway Road (Beaver Street to Medway)
Trettel Drive
Victor Drive
Meadowview Lane
James Street
Janock Road
Mary Road
Carp Road
Virginia Drive
Bodio Circle
Eugene Circle
Attilio Circle
Medway Road (Beaver Street to Birch Street)
Khol's Plaza
Bay Road
Turin Street
Naples Court
Broad Street
Genesis Health
Ari's Way
Birch Street (Medway Road to Maple Street)
Stallbrook Road
Lombardi Circle
Waterfall Lane
Industrial Road
Commercial Way
Beaver Street (Medway Road to Maple Street)
Maple Street
Technology Drive
Jencks Road
Mason Drive
Dilla Street (Pumping Station to Sumner Street)
Quinshipaug Road
Sumner Street (Benjamin Moore to Dilla Street)
Birmingham Court
Sumner Street (Benjamin Moore to Mechanic Street)
Julian Circle
Purchase Street (Julian Circle to Fountain Street)
Vicki Lane
Sabatinelli Road
Ariel Circle
Purchase Street (Julian Circle to Pearl Street)
Pearl Street
Sumner Street (Mechanic Street to Main Street)
Mechanic Street
Winter Street
School Street
Main Street (Sumner Street to Jefferson Street)
Spruce Street (Main Street to School Street)
______________________________________________
Effective Monday, June 15, 2020, the Milford Water Company office will be open from 9:00 – noon and then from 1:00 to 3:00. Only one customer at a time will be allowed in the office and all must wear a protective face covering. The restrooms in the building are closed to the public until further notice.
You can call 844-925-2445 to make a credit card payment or leave your payment in the drop box located to the right of the main office door at 66 Dilla Street. You can also log-in to our on-line site by clicking on the View or Pay your Bill button on this web page.
Important Information
______________________________________________________________________________
YOU NOW HAVE THE OPTION TO PAY YOUR ACCOUNT 24/7 WITH YOUR TELEPHONE BY CALLING OUR
TOLL FREE NUMBER 844-925-2445.
ALL YOU NEED IS YOUR WATER ACCOUNT NUMBER AND PAYMENT INFORMATION.
_____________________________________________________________________________
Milford Water Company's Water Conservation Policy Relative to Irrigation Systems.
As part of its Mass Department of Public Utilities Approved Rules and Regulations M.D.P.U. No.19 – sheet 13 and in response to the Mass Department of Environmental Protection's request to develop a more aggressive "Water Conservation Policy" to help meet future demands created a Water Conservation Policy. As part of that approved policy the following reference to lawn irrigation systems is in effect and has been since January 1, 2005.
Sheet 13, Section 17 – WATER CONSERVATION POLICY
(5) Banned all new lawn irrigation systems connected to the Company supply after January 1, 2005. If a customer installed a lawn irrigation system after January 1, 2005 and connected it to the Company's supply, the Company requires the Customer to disconnect the banned irrigation system and the Company also reserves its right to terminate service to this customer until the irrigation system is disconnected.
________________________________________________________________________________________________
THE WATER CONSERVATION LEVEL
As of June 29, 2020, Milford Water Company is on a Modified STAGE II Water CONSERVATION Level. 
What does this mean to you as a customer?
ALL OUTSIDE WATER USAGE INCLUDING IRRIGATION WATER IS LIMITED TO TWO DAYS A WEEK ALLOCATION PROGRAM BETWEEN THE HOURS OF 7PM AND 7AM. This means that all outside water use is based on your house number, odd numbers may use water on SUNDAY AND THURSDAY and even numbers may use water on TUESDAY AND SATURDAY after 7pm and before 7am.
MWC DOES MONITOR FOR VIOLATORS OF THE CONSERVATION STAGES.
The Milford Water Company at this time would like to thank all of its customers for their cooperation in this matter and hope that by CONSERVING now we will not need to increase our water restriction going forward.
.
PLEASE VISIT THE WATER CONSERVATION PAGE FOR MORE INFORMATION.
____________________________________________
DEP Drought Advisory Status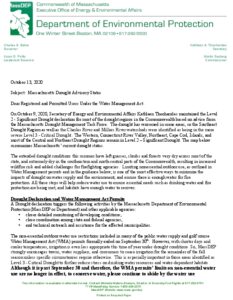 Drought Letter10-13-2020 (0.2 MiB)
Level of Echo Lake

Echo Lake Levels 1995-2020 PLUS Capacity (0.1 MiB)
Rainfall Totals

Rainfall (60 KiB)
Irrigation Policy

MWC Irrigation Notice (0.5 MiB)
MassDEP – brochure on The Value of Public Drinking Water

Water-values (0.3 MiB)
These pictures were taken at Echo Lake in September 2016.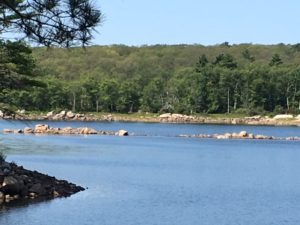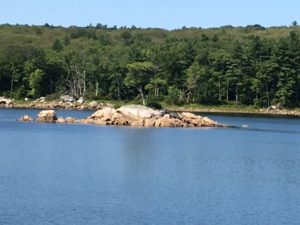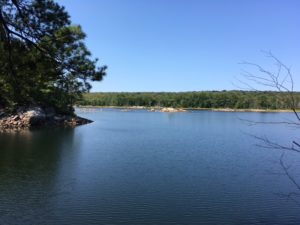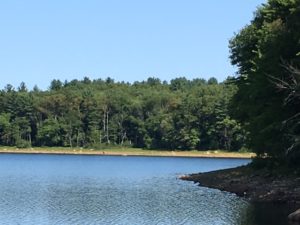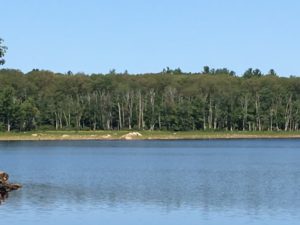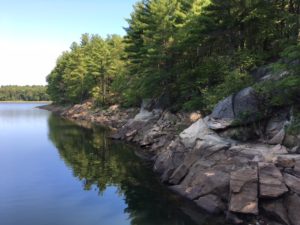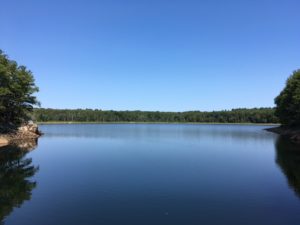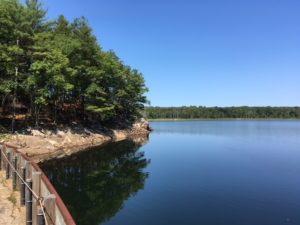 Thank you for visiting our web site that is now mobile friendly.  The goal of the site is to give you accurate and up-to-date information about your water supply in Milford.  This site will allow us to do that in a more efficient manner.
You will find information here on a wide variety of subjects including paying your bill on-line, what to do when you are buying or selling your house, reports on water quality, and history of the company.  We hope you will take the time to explore the site's contents and come back and visit us often.
Your confidence in the water supply is our top priority and we will continue to strive to earn your trust. We welcome your comments and feedback.